« Some more Paintings from Venice! | Main | "Snow on the Beach, Margate" »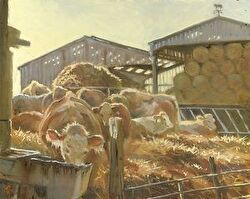 A worrysome commission!
---
I have run workshops on a friends farm several times in the last couple of years and when I was pleased when she asked me to paint a retirement painting for one of her long serving staff.
The worrysome part came when I realised what she wanted to be included in the painting. Most of the needs were easy enough to oblige but Hey! this man has been a stockman all his working life and knows the yard and the animals inside out!
Think about it, would you like to spend your retirement in front of a painting of some animals that are not even anatomically close to being accurate? Ouch!
The only hope was to rely on the animals returning to the same poses every now and then and the water trough was the answer! Even then the wretched beasts approached from a different angle every time and in the end I am sure that they were leering at me saying "I am not the same one you were working on before , I have got a curly coat, remember?"
In the end I hope that the contre jour lighting helped me out a bit and he might make allowances for it being painted by a "townie".
I gave it my best shot, observed like I have never observed before and enjoyed the little still life of the stone watering trough and fencing details and the surrounding barns but it is the animals that still make me nervous!
Oil 11" x 14"
Comments