« Venetian Cafe Nocturne | Main | "Coppicing" »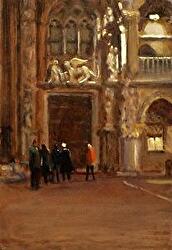 This doorway is in the East wing of the Basilica San Marco and shows St Mark holding an open book symbolising the education of the winged lion. The carved bas-relief is quite dramatically lit by the spotlight on the corner of the Doge's palace and the docent and his small group of tourists gives a guide to the scale.
Comments
1 Response to Saint Mark teaching the Lion.
Pat theodorou
via michaelrichardsonfineart.com12 months ago
I love this
* indicates a required field