« "Evening on St Mark's Waterfront" | Main | "On the Top of the Hill" »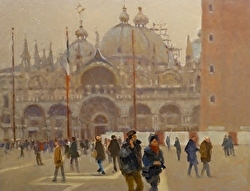 This was a lengthy "Plein Air" undertaking during the course of which I met and chatted to some very interesting people. Luckily the light was fairly flat so I did not mind the interruptions. Some artists are deliberately rude to scare people away but I think this is arrogant and unprofessional. I also happen to enjoy selling work from my easel and this will not happen if I shoo people away! I do however put my brushes down and turn away from the work to answer questions which lets people know that I am happy to talk but that I have stopped work for them!
This is a picture of the piece just blocked in after half an hour taken by one of my many visitors on the day!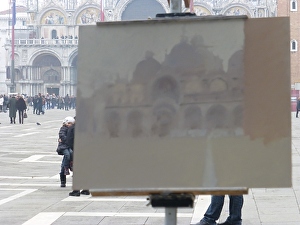 Comments