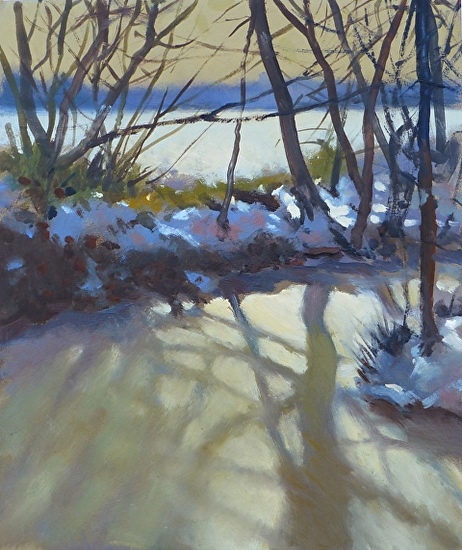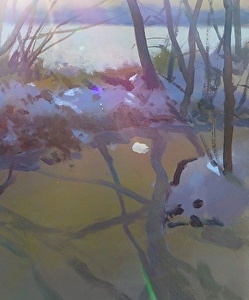 Half way through and the light has reached the point where I want the shadows to be. Sometimes it is useful to remember that the shadows move around 15 degrees per hour so one can anticipate where they will be an hour after setting up! The small dab of light under the central sapling is to test the tonal value and to check that it is the lightest light in the picture before embarking on the rest of the shadows. The shadows in the lower left corner were very diffused by a lot of small branches and twigs so this involved a lot of "thumb blending"!
The cast shadows on the frozen surface were what drew me to the subject so it seemed right to have a high horizon. I used a very bright underpainting which was scrubbed in fast to establish the tonal relationships. A lot of damar varnish was used in this underpainting so that the branches and twigs could be rendered without "picking up" too much pigment fom the background field and sky. (The brightest light had to be the glare of the sun on the ice). The intensity of the shadows reduced with distance from the trees casting them as the light from the canopy of the sky above filled them in. The piece was finished in 90 minutes of consciously intense work as there were clouds building from the West.
This painting has been sold.