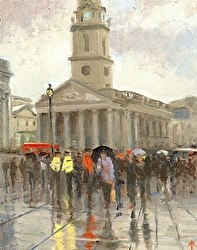 This was painted in driving rain which eventually defeated my umbrella by threatening to blow the whole easel over. I did discover however that once there is some paint on across the whole support new paint will stick to it after a fashion and now it has dried it does seem to have stayed on alright!
It was essential to wipe the palette down and start again every fifteen minutes or so just to get rid of the emulsion and luckily I had a lot of brushes with me as once a brush is really wet it is useless so changing to dry ones really helped especially in the later stages when the darks did not always want to "tell" their full value.
Comment on or Share this Article →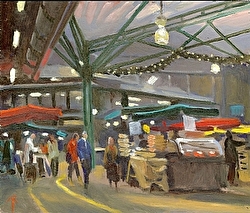 I love this London Market. It always provides an interesting composition whether in the older Victorian side or here in the new Jubilee part. I felt it was important to include the steelwork that supports the translucent roof covering as well as an indication of the bustling activity below.
Comment on or Share this Article →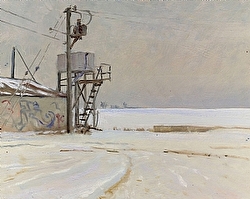 This appealed as a subject because of the stark shapes of the structures against the smooth open space of the winter landscape. Humans had left their marks in the graffiti on the abandoned farm shop and the tyre tracks in the snow.
Comment on or Share this Article →