---
For anyone who has never done it the organising of a painting holiday for more than forty painters is harder than you might think. It is a bit like walking a steeplechase course in the sense that one has to imagine that one's car is a fifty foot motor coach as the alternative is that come the day the driver will say, "are you sure about this route, Mike?" as a hairpin bend or a low bridge comes into view! Then there are the hotels, surprisingly few are suitable either for size quality or location. Finding painting locations to satisfy everyone is tough and one can only do one's best as it is seldom possible to oblige everyone but later in the year it is always nice to start to see the work from these expeditions in the Society Shows or the Royal Academy. We also need to think about making a good programme for the wives who come along as well, visiting castles, museums, perfumeries, chateaux, chocalateries, fashion houses and just plain old retail therapy!
After more than a thousand miles of doubling backwards and forwards across Britanny it is all now finalised but as you will imagine there was little time to paint!
Here are a few, mostly rushed efforts, but giving an idea of what we will have to look forward to next June! If anyone wants to come you will be assured of a great welcome, the company of some excellent painters and of course the renowned french gastronomy!
City Nocturne 8" x 10"
Harbour Nocturne 6" x 8" Oil
"Gulls Feeding, Normandy" 10" x 12" oil
"The Lighthouse, Cancale" 10" x 12"
Comment on or Share this Article →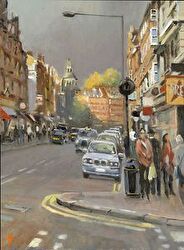 This is typical of many street scenes in London showing the variety of architecture, signage, traffic and pedestrians. This piece was commissioned by a young lady from Canada who wanted to give her husband a memento of their time together in London on their return home after a few years living in West London.
Comment on or Share this Article →