Despite being a little bit "over" as far as the lavender was concerned it was still fun to paint for a few hours in the Lavender Fields at Mayfield near Carshalton. It was quite an intoxicating experience to paint among the swarms of bees and the strong perfume of the plants and there were still a few photographers and walkers around to add a bit of life here and there. Both paintings are 10" x 12" and of course the one day I needed some cobalt violet I had left it at home!

I did experiment with a bit of Lavender oil later on but was not too impressed! More exciting was the experiment in the underpainting with the 1 part Damar Varnish, 1 part Stand Oil and 5 parts Turpentine mix which went off like greased lightning and gave a nice dry base to work into after only ten minutes. (Courtesy of "Processes, Pigments and Vehicles" published in 1895)




Comment on or Share this Article →
Yet again the Art in the Open Competition, now the biggest plein air event in Europe, lived up to expectations. Superb organisation, and the engagement of all the local people, who really welcome over 100 artists from around the world, make this an unmissable event for me!
The main competition is held over a weekend in the nearby Towns of Wexford and Enniscorthy and there is a big prize fund. I was delighted to win a runner up prize!
A series of paint-outs during the weeks before and after the main event gives everyone a chance to get to know the local area and get some practise if they are not accustomed to working out of doors. Here is one of the pieces that I painted during those events.
"The Barbecue Party" 11" x 14" Oil
Comment on or Share this Article →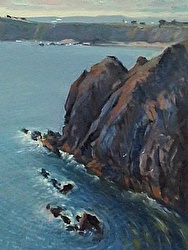 I seem to have discovered a sort of masochistic pleasure in looking over cliff edges recently. I love the tortured shapes in the rock formations and the different moods of the sea and the way the waves eddy and collide around the outcrops.
Comment on or Share this Article →