Painting Holidays
F
or fifteen years Michael Richardson Fine Art has been organising painting holidays for groups up to 40 artists on a non-tutored basis mainly for professional or serious amateur plein air painters. Transport is normally by modern air-conditioned motor coach with assembly at or near one of the UK channel ports for the crossing to Europe. The events are run by Kate Borg as the tour manager who has over twenty years experience as a courier and tour guide.
Past venues include Amsterdam, Paris, Honfleur, Dinan, Brugges, Fecamp, Saumur, St Valery-sur-Somme and the Ile de Re.

If you are involved with a painting society or group and would like an estimate for a holiday tailored to your requirements please write to us through the contact page.
Advance notice for 2013!
Friday May 31st – Sunday June 9th 2013
Brittany Ferries:
Portsmouth 20.15 - St Malo 09.45
St Malo 10.00am – Portsmouth 18.20
By popular request we have arranged a return visit to this delightful island off the Coast near La Rochelle. The Hotel in St Martin de Re, on the Quayside that we used last time, is indeed somewhat quirky but really convenient as it is so easy to fall out of the door and start painting and is only a couple of paces to dash back for forgotten items or to deposit a masterpiece. For those who are not familiar with this little gem, it is very fashionable with the Parisiennes but not in any way sophisticated. A semi circular working fishing port, surrounded by small shuttered houses and cobbled quayside with an array of narrow streets leading off. There is a small beach and coastal walks through trees and sand dunes and sailing, fishing, wind surfing as painting motifs. After six nights we return to Dinard for two nights in a four star Hotel before catching the St.Malo Ferry home two mins from the Plage d'Ecluse and Promenade des Allies. Plenty to paint including a Huge Saturday Market or just simply lay back and enjoy it.
Bed and Breakfast Per person Sharing - £975
Single - £1,275
There are only a limited number of singles so it must be first come etc., If you are prepared to share let us know and we can adjust subsequent payments. I will request larger rooms for sharers but cannot guarantee extra space.!!!!
For more information please use the contact form or e-mail michprich@aol.com
Painting in Dinard Market and below, the finished sketch.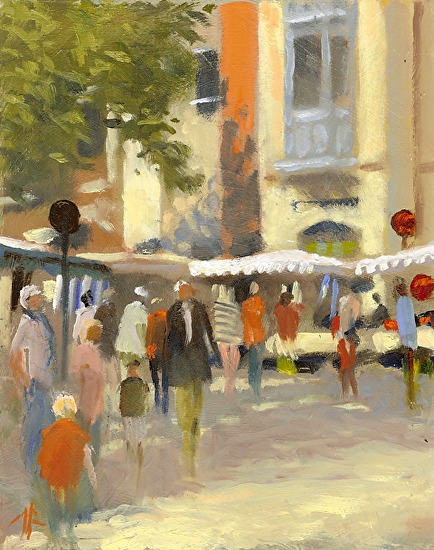 The Market, Dinard 12"x10" Oil Plein Air
Oyster Shacks at Cancale, Oil 10 x 12 Michael Richardson
Trevor Chamberlain painting in pleasant surroundings in Cancale, Britanny.